DfAM - Design for Additive Manufacturing
Design techniques for optimizing your 3D printed parts
---

Additive manufacturing is characterized by enormous design freedom, which can be exploited to the fullest with a special design known as "Design for Additive Manufacturing (DfAM)". In this article, we'll explain what exactly is meant by DfAM and show you some design techniques that will help you get the most out of your 3D printed parts.
What is DfAM?
---

DfAM is the method and ability to design or redesign parts and products for additive manufacturing using 3D printers so that they can be manufactured more cheaply, quickly and effectively.

Unlike traditional manufacturing techniques, additive manufacturing makes it possible to create more complex geometries while reducing material consumption and product weight. Because additive manufacturing is subject to significantly fewer manufacturing constraints than traditional manufacturing processes such as injection molding or CNC machining, it opens up entirely new ways of thinking about design.

DfAM is therefore not just about modifying existing models for manufacture using 3D printers. The idea is rather to think and create parts in a completely new way and thereby improve and optimize them. In addition, DfAM can also have a positive effect on the entire manufacturing process. With the right design, for example, assembly times can be shortened and the number of parts reduced, ultimately saving time and money.
Why is DfAM worthwhile?
---

The enormous design freedom already mentioned for additive manufacturing is certainly one of the greatest advantages of this manufacturing method. DfAM, and with it the application of suitable design rules, help to fully exploit this design freedom, which brings further advantages.

For example, DfAM can be used to produce stronger and more durable parts from less material, thus reducing costs. It can also help eliminate the need for assembly processes by enabling part consolidations, which in turn can help save costs and time. In addition, because changes to the design of AM parts can be made at any time and with relative ease, DfAM can help you achieve greater adaptability and flexibility.
Design techniques for additive manufacturing
---

To help you make the most of the design opportunities for additive manufacturing and get the most out of it, we would like to introduce you to some techniques that are suitable for it below: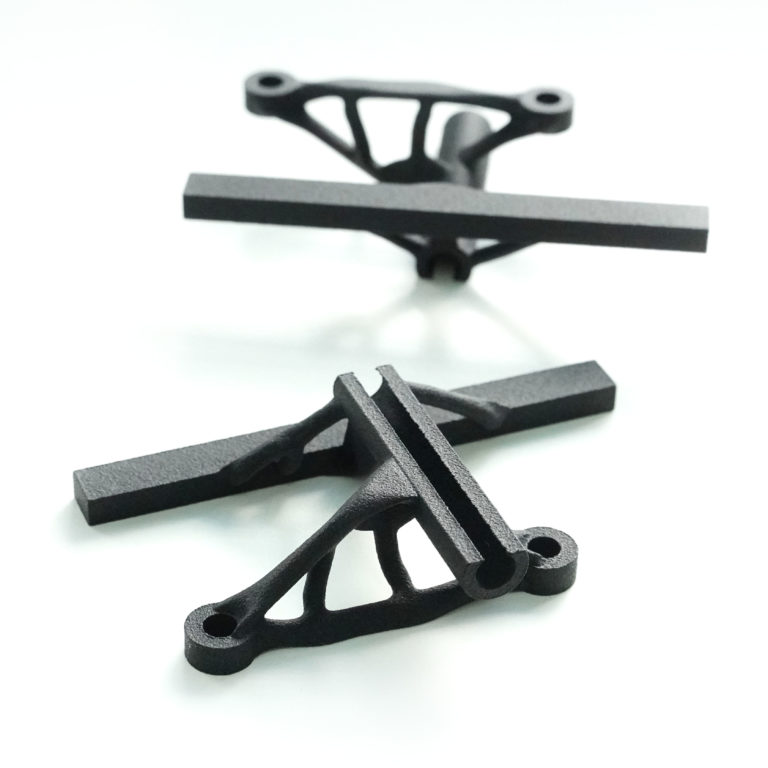 1. Topology optimization
With topology optimization, an optimal geometry of a part is generated with the help of a computer. Intelligent algorithms are used and various framework conditions, such as the forces acting on the part, are specified. The structures created in this way are often based on models from nature and each optimized for a specific application, such as extreme lightweight construction. In addition, these can also very effectively reduce the material used, which is often accompanied by significant cost savings. It should be noted, however, that topology optimization usually requires additional chargeable software.
2. Generative design
Generative design is an iterative process that also uses specialized software to obtain optimized parts. While topology optimization optimizes a component by making changes to an existing model, this method does not require a finished design in advance. The starting point, however, is basic information such as constraints, requirements, materials and manufacturing method, which the software then uses to generate a series of designs.

Generative design makes it possible to create highly innovative design options and can also help achieve significant material and cost savings.
3. Lattice structures
While lattice structures can only be implemented to a limited extent, if at all, using conventional manufacturing processes, they do not pose a problem for additive manufacturing. They can be used to make parts lighter but also stronger, more resistant, more flexible or more resilient. The use of lattice structures means that less material is used, reducing weight up to 80%. This in turn has a positive impact on part costs.
4. Part consolidation
In 3D printing, even complex geometries such as overhangs and channels in parts can be easily implemented. With conventional manufacturing processes, such geometries can only be produced as assemblies, which have to be manufactured and mounted from several individual parts. Additive manufacturing, on the other hand, makes it possible to design and produce them directly as one part.

This procedure, called "consolidation", saves for one the production of several manufacturing tools, which require other manufacturing methods for the individual parts. It also eliminates the need for fasteners to connect the assembly, saving material and weight as well as time and money.
Do you have further questions? - We are happy to help you!